Zoom Teeth Whitening
ZOOM Teeth Whitening Phuket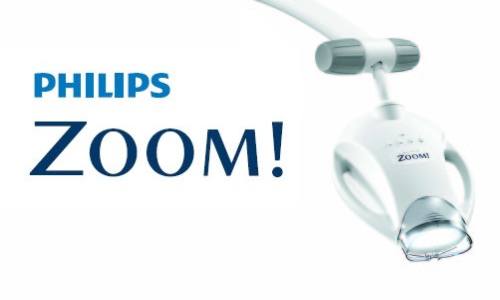 ZOOM!, Teeth Whitening In Phuket, is a bleaching process widely used around the world to lighten discolouration of enamel and dentin. Tooth discolouration may result from drinking coffee, tea, cola and red wine; or from smoking The ageing process also can also stain and darken your teeth. The Zoom in-office tooth whitening procedure uses the Zoom Advanced Power Chairside Lamp to activate the 25% hydrogen peroxide whitening and accelerate the bleaching process. As the hydrogen peroxide is broken down, oxygen enters the enamel and dentin to bleach the stained substances, leaving the structure of the tooth unchanged.

Consultation and Treatment Planning
Before deciding whether Zoom in-office teeth whitening in Phuket is right for you, your dentist will conduct a comprehensive examination of your teeth and gums to ensure proper health, as well as talk with you about your oral hygiene and lifestyle habits to determine if you will benefit from whitening. This will help you and your dentist agree on the whitening product or technique that's best for you.
Your dentist also may require you to undergo whitening if you are planning other cosmetic dental procedures, such as veneers or composite bonding, in order to ensure a better match between the restoration and your natural dentition.
Depending on the condition of your teeth and your goals for changing the look of your smile, whitening may not always be your best option.
During your consultation and evaluation, your dentist also will note existing dental work, such as crowns and veneers, which will not respond to conventional whitening agents.

Considerations of Teeth Whitening in Phuket
Sensitivity during treatment may occur in some people. The Zoom light produces minimal heat, which is usually the source of discomfort. Rarely, minor tingling is experienced immediately after the procedure, but always dissipates.
As with other whitening products, Zoom is not recommended for children under 13 years of age, or for pregnant or lactating women. Also, it is important to remember that whitening treatment may not be as effective for some people as it is for others. Only your dentist can determine if teeth whitening is right for you after performing a thorough oral examination that includes a shade assessment.
Zoom Teeth Whitening Explained
The Zoom whitening procedure uses the latest dental technology, designed by Philips. This technology is only available to dental professionals and is much more effective than at-home whitening treatments.
Zoom is safe, reliable, and fast, with each treatment taking only around 45 minutes to complete. It is suitable for dark stained teeth and sensitive teeth, although some sensitivity may occur to gums and teeth during and after the procedure.
Your dentist will first thoroughly clean your teeth and assess their shade by comparing to a tooth-shade chart, before preparing the Zoom hydrogen peroxide whitening gel. This works together with the Zoom light to penetrate the enamel and dentin of the teeth, breaking down stubborn stains.
The gel is applied and left to work under the light for 15 minutes at a time. Three gel applications are used in one dental office visit, followed by an application of fluoride paste to reduce sensitivity. The full appointment time needed for Zoom teeth whitening is usually around one hour.
When treatment is complete, your dentist will advise you on how to take care of your teeth to maintain their colour and avoid any more staining. You may also be given a Zoom home touch-up kit, which allows you to continue the Zoom bleaching treatment at home to keep your teeth sparkling white.
You'll be able to see the difference by comparing your previous tooth shade with your new whiter shade – it's possible for teeth to be whitened up to 8 shades with this treatment, but individual results will vary.